Category:IESS
Jump to navigation
Jump to search
IESS
Context
With unemployment surfacing among the most urgent social issues prevailing in Tunisia and indering its economic growth, IESS! (Employment Initiatives in Social and Solidarity Economy in Tunisia) was launched to promotes employment through the development of the Social and Solidarity Economy in Tunisia. This 3-year support program -running from September 2014 until 2018- aims to create sustainable jobs for young people and women through the creation and strengthening of sustainable enterprises in different Tunisian regions.
Objectives
General objective
To promote employment through the development of the Social and Solidarity Economy (ESS), a source of social cohesion, by favoring the disadvantaged regions of Tunisia.
Specific objective
Create sustainable jobs for young people and women by creating and strengthening viable SSE enterprises in the Governorates of Jendouba, Kasserine, Sidi Bouzid, and Mahdia.
More information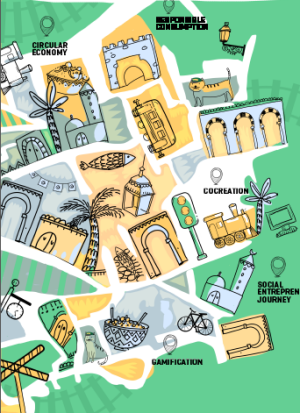 iESS! was implemented in Tunisia, mainly in the following 4 governorates: Jendouba, Kasserine, Sidi Bouzid, and Mahdia. The program's operations fall into 3 levels:
Micro: by raising awareness and developing competencies around the concepts of the SSE in order to promote social initiatives and create jobs in this field.
Meso: by providing funding, support, and capacity building to the existing organizations supporting enterprises at local level.
Macro: by setting up two multi-service territorial support centers (CitESS) in Sidi Bouzid and in Mahdia to support the local SSE organizations through various services including funding and networking, and four co-working and incubation spaces (Lingare) in 4 Tunisian regions.
iESS! community and consertium partners have as well contributed ,through active lobbying, to the elaboration of the legal framework of the SSE in Tunisia. However, the related decrees are yet to be issued, leaving room for more advocacy efforts.
Lingare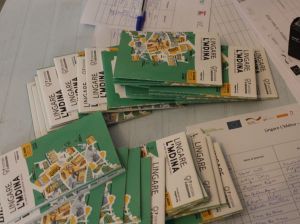 Lingare Social Innovation Space started with a pilot project in Mahdia in 2015 and has since evolved into a network of innovation hubs (currently present in Mahdia, and Tunis). Lingare was also present in Sidi Bouzid and Kasserine, which since 2018 have become an independent innovation space managed by local actors such as KiHub in Kasserine and Association Mouwatana in Sidi Bouzid. Lingare activities include:
The organization of trainings and workshops intended for all those interested in social entrepreneurship
The implementation of the TCSE incubation and acceleration programs
The organization of cultural activities within the space
The development of a creative space for work and networking
The CitESS
CitESS stands for 'cité de l'économie sociale et solidaire', i.e. 'city of the social and solidarity economy'. The CitESS started as the main co-production initiative of iESS!. It has outlived the project demonstrating sustainability and autonomy. Being the main achievement of the iESS! project, the CitESS can be considered as a model of social innovation. It represents the physical or virtual grouping of a set of complementary and synergistic local services/structures, assisting SSE entrepreneurs (with priority given to women and young people) with the creation, development and sustainability of their enterprise. It is set up as an association with partners from the public, private, and SSE sectors, and offers SSE actors, whatever their development stage, legal support, counselling, capacity building, networking, marketing services, eases access to information and to finance...
Consortium
Lead beneficiary: Cospe (Cooperation for the Development of Emerging Countries - Italy)
Co-applicants:
iesMed (Innovation and Economy Social in the Mediterranean - Spain)
TCSE (Tunisian Center for Social Entrepreneurship – Tunisia)
Development Offices of the governorates concerned (ODNO, ODCO, CGDR)
CRESS PACA (Regional Chamber of Social Economy and Solidarity PACA – France).
Associates:
ANETI (Tunisia)
ABCDE (Beder Association for Citizenship and Equitable Development – Tunisia)
Coeptis (France)
ICOSI (France)
Coopmed (France)
Associazione Microfinanza e Sviluppo (Italy)
ICNS (Instituzione Centro Nord South – Italy)
REMESS (Moroccan Network of Social and Solidarity Economy – Morocco).
Useful links to know more about IESS
Pages in category "IESS"
The following 5 pages are in this category, out of 5 total.