Co- production of public policies in the neighborhood 01
What role can we play in our entities and organizations to strengthen access to the institution? How can we develop a relevant role in the development of specific public policies in those matters or areas that interest us?
There are various tools and processes for the co-production of public policies between the administration and other economic and social actors. If we want our vision and commitment to social transformation to take steps forward and serve for a better and more effective satisfaction of our needs and that of the rest of the neighbourhood, we cannot fail to build a co-production and advocacy strategy.
On these issues we descend in this last session.
We have selected highly relevant documentation that guides us on how to design a public advocacy program or planning. Here we leave you the links and the development scheme: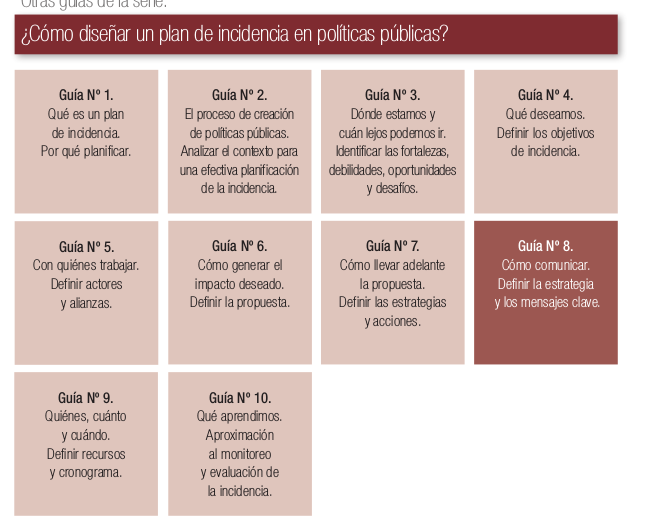 Guide No. 1. What is an incidence plan.
Why plan. https://www.cippec.org/wp-content/uploads/2017/03/1768.pdf
Guide No. 2. The process of creating public policies.
Analyze the context for effective advocacy planning: https://www.cippec.org/wp-content/uploads/2017/03/1770.pdf
Guide No 3. Where we are and how far we can go.
Identify strengths, weaknesses, opportunities and challenges: https://www.cippec.org/wp-content/uploads/2017/03/1766.pdf
Guide No. 4. What we want.
Define advocacy objectives. https://www.cippec.org/wp-content/uploads/2017/03/1764.pdf
Guide No 5. With whom to work.
Define actors and alliances. https://www.cippec.org/wp-content/uploads/2017/03/1791.pdf
Guide No 6. How to generate the desired impact.
Define the proposal. https://www.cippec.org/wp-content/uploads/2017/03/1720.pdf
Guide No 7. How to carry out the proposal.
Define strategies and actions. https://www.cippec.org/wp-content/uploads/2017/03/1718.pdf
Guide No 8. How to communicate.
Define the strategy and key messages. https://www.cippec.org/wp-content/uploads/2017/03/1716.pdf
Guide No. 9. Who, how much and when.
Define resources and schedule. https://www.cippec.org/wp-content/uploads/2017/03/1714.pdf
Guide No 10. What we learned.
Approach to monitoring and evaluation of incidence. https://www.cippec.org/wp-content/uploads/2017/03/1712.pdf
CAONGD Political Advocacy Plan 2020 – 2023 : https://caongd.org/wp-content/uploads/2020/10/Anexo-5-Plan_de_Incidencia_de_la_CAONGD_2020_2023.pdf