MedTOWN participates in RIPESS Europe "Co-creating our future: cultivating and weaving solidarity economy towards 2030 and beyond" round table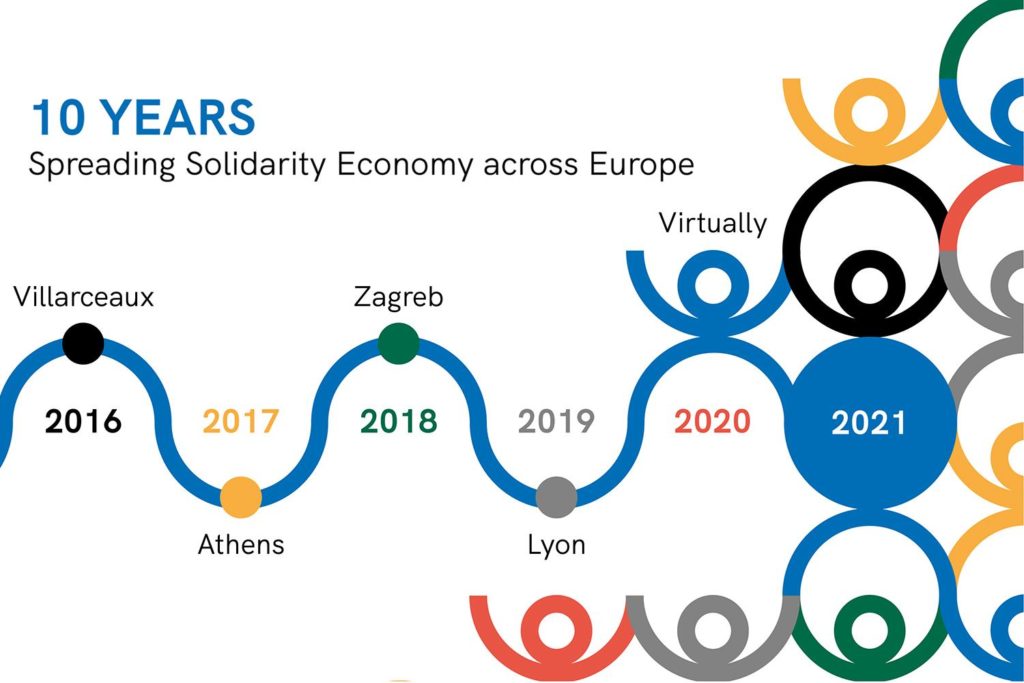 MedTOWN project director and coordinator, Georgia Karavangeli participated on 9th September 2021 in the discussion round table "Co-creating our future: cultivating and weaving solidarity economy towards 2030 and beyond" as part of the RIPESS Europe 10th Anniversary General Assembly gathering.
RIPESS Europe – Solidarity Economy Europe is the European network of the Social Solidarity Economy (SSE) organisations (part of the RIPESS Intercontinental network), bringing together over 40 national, sectoral and inter-sectoral networks in several European countries. It aims to share practices, inter-cooperate and engage in joint actions that can promote and enhance the visibility of the Solidarity Economy movement and contribute to legal frameworks and public policies.
The organization aims to link practitioners, theoreticians, and policy makers of the solidarity economy to promote and develop SSE through the exchange of practices and commitment to shared actions while promoting alternative modes of production, consumption, savings, and exchange to build a more equitable economy and solidarity-based development.
Georgia Karavangeli is the director and coordinator of the Mediterranean cooperation project MedTOWN. She has been running the project for ACPP (Asamblea de Cooperación por la Paz) since 2019, when she moved from her native Greece to Spain. Besides that, in 2020 she was elected Counselor of International Affairs for REAS Spain (Network of Alternative and Solidarity Economy Networks), and its representative within RIPESS.
With a strong academic background in the field of International Relations, Economic and Regional Development, Georgia is an expert working in European cooperation projects, coordinating multi-stakeholder projects in several countries. As a consultant for the networking & development of alternative economy, she has participated in cooperation and research projects about the SSE.
She has a history of commitment with the development of the SSE in her native country as a member of the Social Cooperative Enterprise "Thrakis Kinitro", and founder and vice-president of the Network of Social Cooperative Enterprises in one of the poorest regions of Northern Greece. She is passionate about the improvement of economic and social welfare, participatory citizenship and the value of cooperation and SSE networking at an international level.
From 7 to 10 September 2021, RIPESS Europe held its General Assembly celebrating the 10th anniversary of its founding Congress, (which took place in Barcelona in September 2011), at an ecological farm in Villarceaux (France).
The discussion "Co-creating our future: cultivating and weaving solidarity economy towards 2030 and beyond" is an opportunity for SSE actors to look ahead beyond this time of reacting and struggling to find solutions for the emergency situation of the last two years characterised by the Covid-pandemic crisis, which has added up to the many other challenges characterising the 21st century hyper-globalised market and financial economy.  After seeding, co-organising and participating in many convergence spaces and platforms, it is time to discuss together what to prioritize and where to invest energies, looking for synergies as a network of diverse actors and allies as well as projects and initiatives in different sectors, and in this context, MedTOWN offers an innovative approach that opens up many potential opportunities.
MedTOWN "Co-production of social policies with social and solidarity economy (SSE) actors to fight poverty, inequality and social exclusion" is a cooperation project funded by the European Union through the European Neighbourhood Instrument for Cross-Border Cooperation in the framework of the Mediterranean Basin Programme (ENI CBC Med 2014-2020), which involves 9 partner entities, and as many associates, from 6 countries with a total budget of 3.4 million (86.5% programme contribution).
---
More info on our project at: www.enicbcmed.eu/projects/medtown
Suscribe to our newsletter here
Or join our Community of Practice
Follow us on social media:  Facebook @medtownproject | Twitter @medtownproject  | Instagram @medtownproject