MedTOWN supports development of Bela Flor community agroforestry project in Portugal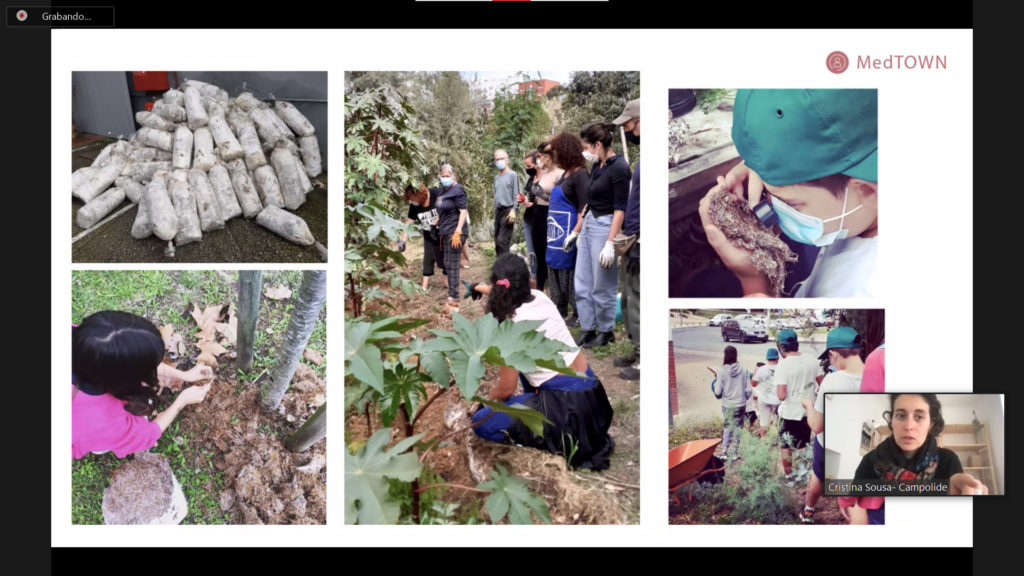 During the last months, COVID restrictions became the new reality all over the world and Campolide, Portugal is no exception. New needs, challenges and purposes were brought up within the community demanding for more solidarity networks, cooperation processes, respect for labour rights, equality,  right wide and natural spaces for leisure, safe food, air, etc.
This new situation shaked the already fragile society, remembering that all the basic human needs are in danger and we all need to join and establish new cooperation networks not only to survive but also thrive.
MedTOWN project has been an important driving force to Bela Flor Agroforest prosperity, gathering around it new partners, (social and environmental) people from the community, resources and making available food, as also an important natural safe space for neighbours connection.
Along with the Volunteer Thursdays (a weekly moment specially dedicated to community in the agroforest) MedTOWN team also put together, monthly, Carpentry Workshops, where the community joined to build wood benches to better use/occupy the outdoors.
Neighbours (children and adults) together, using tools from local associations, transformed wasted wood on simple design benches that allowed children to have learning sessions outdoors, or for example, seniors to breakout the home isolation and meet with safety outside.

The MedTOWN project "Co-production of social policies with social and solidarity economy (SSE) actors to fight poverty, inequality and social exclusion" is a cooperation project  funded by the European Union through the ENI CBC Med 2014-2020 Programme, involving 9 partner entities, and as many associates, such as the City Council of Seville, from 6 countries (Spain, Greece, Palestine, Jordan, Tunisia and Portugal) with a total budget of 3. 3.4 million (86.5% programme contribution) and an estimated duration of 36 months, until September 2022.
MedTOWN is developing six Demonstrative Actions in six locations, six cities across the Mediterranean, experimenting with social innovation, such as the one implemented in Portugal, or similar formulas.
More info:  https://medsocialinnovationlab.org/
or contact us through: medtown@acpp.com
Follow @medtownproject on Facebook, Twitter and Instagram